Careers
Careers at Eye Associates of New Mexico
We appreciate your interest in Eye Associates of New Mexico, the largest ophthalmology and optometry practice in the Southwest. We are pleased that you are considering becoming a part of our organization.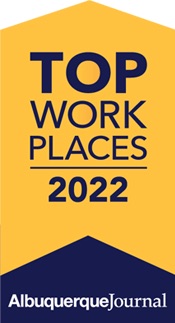 Clinician Retires after 41 years!
For over 45 years, we have provided the highest quality eye care to New Mexico residents. We owe our success to the efforts of all our employees and we are committed to enhancing our reputation for high-quality patient service by hiring only the best employees. That means we look for people who not only have strong skills, but also possess compassion, a strong customer service philosophy, a willingness to go the extra mile, and the ability to contribute as a member of a team. As a result of these high standards, we have achieved a Top Workplaces designation, sponsored annually by the Albuquerque Journal, in 2019, 2020, and 2022.
We employ over 50 Ophthalmologists and Optometrists and over 575 support staff in 12 Clinics, 2 Ambulatory Eye Surgery Centers, 11 Optical shops, 1 Vision Research Center and 3 Support Offices located across the state. You will find our Clinics and other services in Albuquerque, Farmington, Los Alamos, Los Lunas, Rio Rancho, Roswell, Santa Fe and Taos.
Eye Associates of New Mexico is a drug-free environment and an Equal Opportunity Employer. We offer competitive salaries and benefits, including medical/dental insurance, life and disability coverage, generous vision benefits and a 401(k) plan.