What is refractive surgery?
Refractive surgery is a surgery that changes the way that light is focused by the eye using techniques such as PRK or LASIK surgery. The goal of Refractive surgery is to decrease one's dependency on glasses or contacts, and in many cases to eliminate the need altogether. Refractive surgery can correct near sightedness, farsightedness, and astigmatism.
What is LASIK?
LASIK is a laser procedure that is  performed under the surface of the cornea. During LASIK surgery, a femtosecond laser is used to create a flap on the front third of the cornea allowing the excimer laser correction to be done underneath the surface. The front "flap" is then gently laid back down and is self-healing. LASIK allows for the rapid return of vision with little discomfort and quick return to normal activities.
What is photorefractive keratectomy (PRK)?
PRK is a procedure that uses the excimer laser to gently sculpt the surface of the cornea into a new shape in order to correct either myopia, hyperopia, or astigmatism. Results with PRK have been excellent and we now have data extending back nearly 2 decades. The healing time after PRK can take several weeks.

Additional Information
Eye Associates of New Mexico is pleased to offer IntraLase technology. IntraLase allows for a truly blade-free LASIK procedure. The IntraLase laser is a femtosecond laser developed by Johnson and Johnson, which allows a precision laser cut of the LASIK flap. The LASIK treatment is then performed with the excimer laser.
Eye Associates of New Mexico offers custom LASIK treatment technology with the iDesign system. The iDesign takes a very precise and custom measurement of your cornea using wavefront aberrometry. This customized scan is used to determine the treatment of your cornea, allowing the correction of nearsightedness, farsightedness and astigmatism, while also correcting more subtle visual aberrations known as "higher order" aberrations.
---
REFRACTIVE SURGERY FAQ'S
How Much Does Refractive Surgery Cost?
The cost of refractive surgery can vary person to person depending on a variety of factors. Learn more about costs and financing options available at Eye Associates of New Mexico
---
What is farsightedness?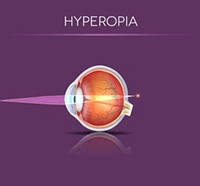 Farsightedness or hyperopia is the opposite of myopia. The eyeball is either too short or the focusing power of the lens or the cornea is too weak not allowing light to focus sharply enough. As a consequence, the retina receives a blurred image. In the normal situation, the cornea is spherical or round, similar to a basketball. Farsightedness can be corrected with glasses, contact lenses, or refractive surgery, such as LASIK surgery.
What is nearsightedness?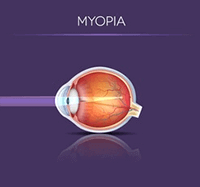 Nearsightedness is also known as myopia and describes the condition where the eye focuses light too sharply either due to the length of the eyeball or the focusing power of the cornea or lens. As a consequence, the retina received a blurred image. Nearsightedness can be corrected with glasses, contact lenses, or refractive surgery, such as LASIK surgery.
What is astigmatism?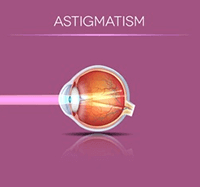 Astigmatism is the term to describe how oval the cornea is. This "football shape" causes light to be streaked into a smeared or double image. Astigmatism can be corrected with glasses, contact lenses or refractive surgery, such as LASIK surgery.
---
Meet Your LASIK Surgeons
The LASIK surgeons at Eye Associates of New Mexico have over 75 years of combined experience and have performed thousands of procedures in our laser vision correction centers. Eye Associates is dedicated to offering state-of-the-art laser vision correction techniques such as custom,blade-free LASIK, and the Visian ICL. Are you seeking a New Mexico LASIK eye surgery specialist?
The LASIK surgeons at Eye Associates of New Mexico are leaders in ophthalmology and laser vision correction. We welcome you to learn about our LASIK doctors listed below and see why we have the experience and technology to deliver the finest results in LASIK eye surgery.
You are invited to come in for a LASIK consultation to discuss your candidacy for the procedure, the associated LASIK costs, and meet with our New Mexico LASIK eye surgeons. Learn how LASIK has helped millions of people around the world see better.
---
Interested in pursuing refractive surgery?
Our  eye surgeons are dedicated to excellence in refractive surgery. We offer LASIK and PRK consultations in select locations across the state for anyone interested in learning more about the procedure and finding out if it is a good option to correct their vision.  Contact us at your convenience for your free refractive surgery screening and consultation.