Dry eye occurs when the eye does not produce tears properly, or when the tears are not of the correct consistency and evaporate too quickly. In addition, inflammation of the surface of the eye may occur along with dry eyes. If left untreated, this condition can lead to pain, ulcers, or scars on the cornea, and some loss of vision. However, permanent loss of vision from dry eye is uncommon.
Dry eye can make it more difficult to perform some activities, such as using a computer or reading for an extended period of time, and it can decrease tolerance for dry environments, such as the air inside an airplane. Other names for dry eye include dry eye syndrome, keratoconjunctivitis sicca (KCS), dysfunctional tear syndrome, lacrimal keratoconjunctivitis, evaporative tear deficiency, aqueous tear deficiency, and LASIK-induced neurotrophic epitheliopathy (LNE).
---
---
What are the types of dry eye?
Aqueous tear-deficient dry eye is a disorder in which the lacrimal glands fail to produce enough of the watery component of tears to maintain a healthy eye surface.
Evaporative dry eye may result from inflammation of the meibomian glands, also located in the eyelids. These glands make the lipid or oily part of tears that slows evaporation and keeps the tears stable.
Dry eye can be associated with:
inflammation of the surface of the eye, the lacrimal gland, or the conjunctiva;
any disease process that alters the components of the tears;
an increase in the surface of the eye, as in thyroid disease when the eye protrudes forward;
cosmetic surgery, if the eyelids are opened too widely.
---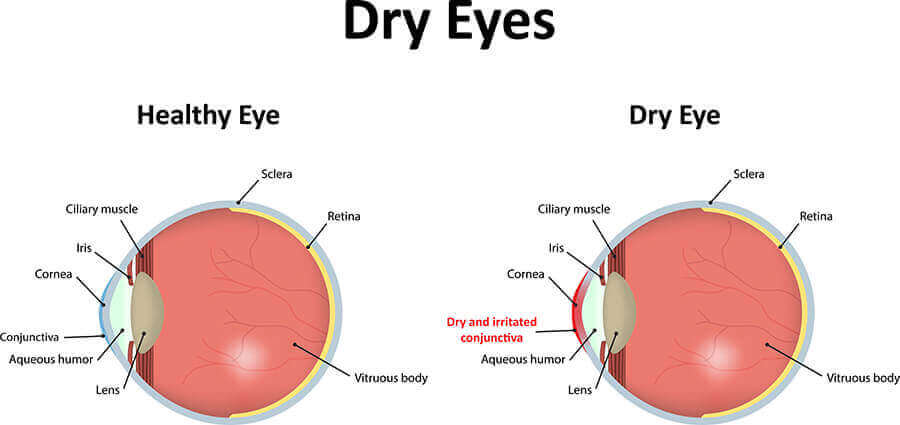 ---
Dry eye symptoms may include any of the following:
stinging or burning of the eye;
a sandy or gritty feeling as if something is in the eye;
episodes of excess tears following very dry eye periods;
a stringy discharge from the eye;
pain and redness of the eye;
episodes of blurred vision;
heavy eyelids;
inability to cry when emotionally stressed;
uncomfortable contact lenses;
decreased tolerance of reading, working on the computer, or any activity that requires sustained visual attention;
eye fatigue.
NOTE: If symptoms of dry eye persist, consult an eye care professional to get an accurate diagnosis of the condition and begin treatment to avoid permanent damage.
The above information is provided by the National Eye Institute.